Modular Plastic Conveyors UK Designed And Manufactured
Conveyor Systems Built To Requirements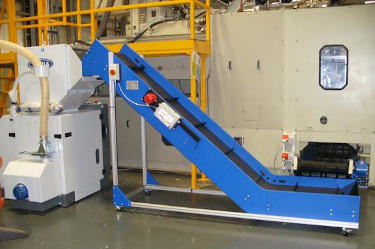 From single conveyors to complete automated conveyor systems, St Machinery renowned high quality modular plastic conveyors are designed and manufactured in the UK.
Every conveyor is designed and built to meet your production requirements exactly.
Get a quote for your new conveyor today
Reliable conveyors keep production lines flowing.
Production down time is expensive that's why ST Machinery conveyors are built to exacting standards here in the UK, with high quality bearings, motors and a wide range of modular plastic belts with differing flight heights to suit your product.
ST Machinery conveyors are seen in some of the UK's biggest plastic products manufacturers facilities feeding plastic granulators, injection and plastic blow molding machines.
Our unique conveyor side frame design prevents sideways movement of the modular belt, reducing friction, and removing obstacles where dirt and debris can normally be trapped.
Modular plastic conveyors are very strong, inert, and ideally suited to many production processes.
They can be teamed with our: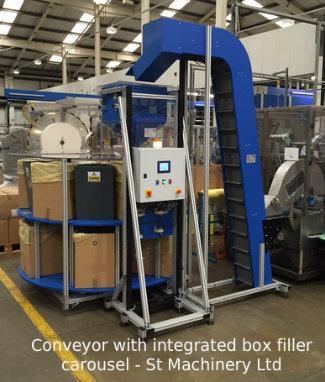 or be part of a completely automated conveyor system with multi-lane switching if required.
We design and build conveyors to virtually any size, shape and colour.
Simply tell us what you need and we will build it.
Well designed conveyor systems should also be adaptable.
Once you have invested in a conveyor from ST Machinery we are able to rapidly reconfigure the layout should your needs change, at the fraction of the cost of purchasing a new conveyor. Whether that is a change from a horizontal conveyor to a swan neck conveyor configuration for a new moulding machine, or the addition of conveyor cooling fans, metal detection solutions, box fillers, weighing scales or a complete conveyor control system.
Over 20 Years Of Experience In Designing Conveyor Systems
ST Machinery Ltd have been designing and manufacturing bespoke modular plastic conveyor systems for over 20 years, and have an enviable reputation for fast turnaround from conveyor design to delivery with our renowned reliability built in.
Our conveyors are used by major plastic component manufacturers and smaller companies alike in the packaging, automotive, pharmaceutical, recycling and many other industries worldwide where cost effective purchasing is vital.
All ST Machinery conveyors are individually designed and built to meet each customer's unique requirements often at a lower price than off the shelf standard conveyors.
From a single conveyor to a fully automated, multi-lane production line, you can be assured that we have the experience to design and build exactly the efficient, reliable, robust and virtually maintenance free conveyor system that you require.
We are also a manufacturer and supplier of high quality roller conveyors, again designed and built to mesh perfectly with your production process.