For plastic part sprue separation ST Conveyors offer plastic part runner conveyors with Paddle Separators available in infinitely variable lengths and in a variety of widths and colours individually designed to meet application and space requirements.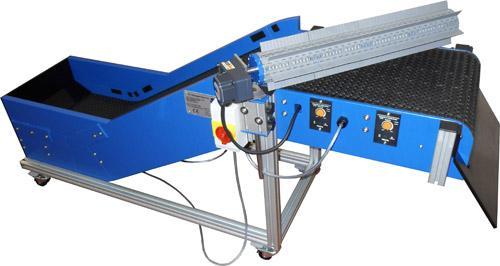 Paddle Separator Conveyors are the ideal solution for large component part from sprue separation into separate boxes.
Available as stand-alone units or integrated with conveyors to meet process requirements.
Part sprue paddle separator conveyors can be designed with multiple paddles for multiple parts from sprue separation.
Why compromise on standard Paddle Separator Conveyors when we can design and build you a bespoke conveyor system for your exact requirements at comparable costs.
Variable speed single phase motors.
High strength low friction HM Polyethylene PE500 side frames are chemically inert with no corrosion.
Machined side frames keep the belt under control and prevents side to side movement, a potential problem with conventional belt conveyors.
Low running costs and minimal maintenance.
The modular rubber grip top belt can be completely removed from a conveyor in less than 2 minutes for easy cleaning.
Option of castors or foot mounted.
Part runner sprue separator conveyors side frames are mounted in an anodised aluminium section to give a solid and robust structure for years of use.